Lovemore Bonjisi
Born: 1985
Education: Unable to attend school as he did not possess a birth certificate
Bio:
At the age of 12, Lovemore was introduced to stone sculpture by Lameck, his brother, in his ample free time as Lovemore was unable to complete his primary education because he did not have a birth certificate. This led him on to assist Lameck with the finishing and polishing of his sculptures. As he progressed, Lameck gave him small raw stones to work on, and with these almost unworkable pieces, Lovemore's sense of creativity was unleashed. He produced sculptures, which by the age of 14 had won the hearts of many who were originally dealing with Lameck. Lovemore's positive feedback encouraged him to work on bigger pieces marking the beginning of his career. At 15, Lovemore received his National Birth Certificate but by then his heart was set on sculpture.
Lovemore claims:
"A sculpture exists already in the stone before you start working on it. All I do as an artist, I remove the unwanted material to reveal the sculpture hidden within. It's like cutting a diamond".
Lovemore's work is diverse and dynamic, ranging from traditional to modern, coupled with sharp angles and smooth long necks with life-like faces.
Cecelia Winter Irving, respected Shona art collector, critic and ex-curator of the National Art Gallery of Zimbabwe has described Lovemore as the 'Shone Michelangelo'.
Collections:
Botanical Garden, Prague
Gallery Conrad in Oberdorf, Germany
The Contemporary Fine Art Gallery, Eton UK
The National Gallery of Zimbabwe
The Chapungu Gallery, Zimbabwe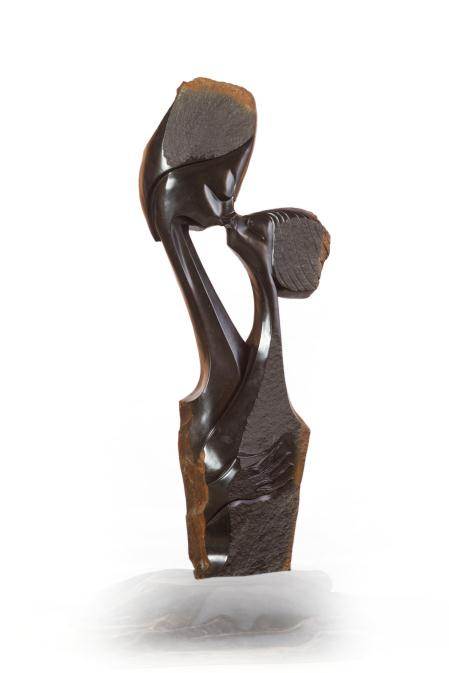 Lovemore Bonjisi, 'Lovers', W14xH144 KG110